SanDisk CompactFlash 64MB Model SDCFB - Ultracompact for digital camer in Long Beach, California For Sale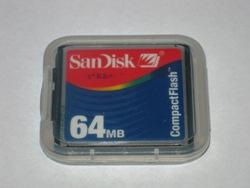 Price: $10
Date/Time:31 Jan, 04:22 a.m. EST
Type: Business, For Sale - Private.

SanDisk CompactFlash 64MB Model SDCFB - Ultracompact for digital cameras + more!
The size of a matchbook and weighing only half an ounce, the 64 MB CompactFlash card from SanDisk is an ultrasmall, removable data storage system. CompactFlash memory has built-in, industry-standard compatibility because its 50-pin card can easily be slipped into a passive, 68-pin Type II adapter card that fully meets PC Card electrical and mechanical specifications.
* 64 MB CompactFlash
* Removable data storage system
* Ultracompact
* Industry-standard compatibility
* For use in digital cameras, PDAs, HPCs, personal communicators, and MP3s
CONDITION: Used (in a digital camera), fully functional!
Plastic storage case included.
Expanding functionality and allowing products to be smaller and lighter, CompactFlash has been designed into more than 200 mobile products including digital cameras, handheld PCs, personal communicators, medical monitors, and audio recorders.
SanDisk is a leading manufacturer of flash memory cards for consumer, professional and industrial use.
Call Anthony at 562.467.xxxx or send an email using the email link in this posting.
* *

Time: 12:34 p.m. EST
Date: 06 Dec

indoor grow setup
This system comes with everything you need to get going minus flexhose. comes with 6 lights with switchable balasts....
Price: $2,500
Time: 12:20 p.m. EST
Date: 06 Dec

Price: $35
Time: 12:09 p.m. EST
Date: 06 Dec

Time: 12:05 p.m. EST
Date: 06 Dec

Time: 11:57 a.m. EST
Date: 06 Dec

Web Based Postion Needed NOW!!
Do you have a computer? Would you like to be your own boss? Do you want to pick what hours & days you work? Would you...
Time: 11:53 a.m. EST
Date: 06 Dec